Nature & Outdoor Activities
Cape Coral is the perfect getaway for outdoor enthusiasts and nature lovers. Rent a kayak and explore over 400 miles of navigable waterways, visit stunning nature preserves and wildlife refuges or simply take some time to soak in the great outdoors. Explore some of our top recommendations below.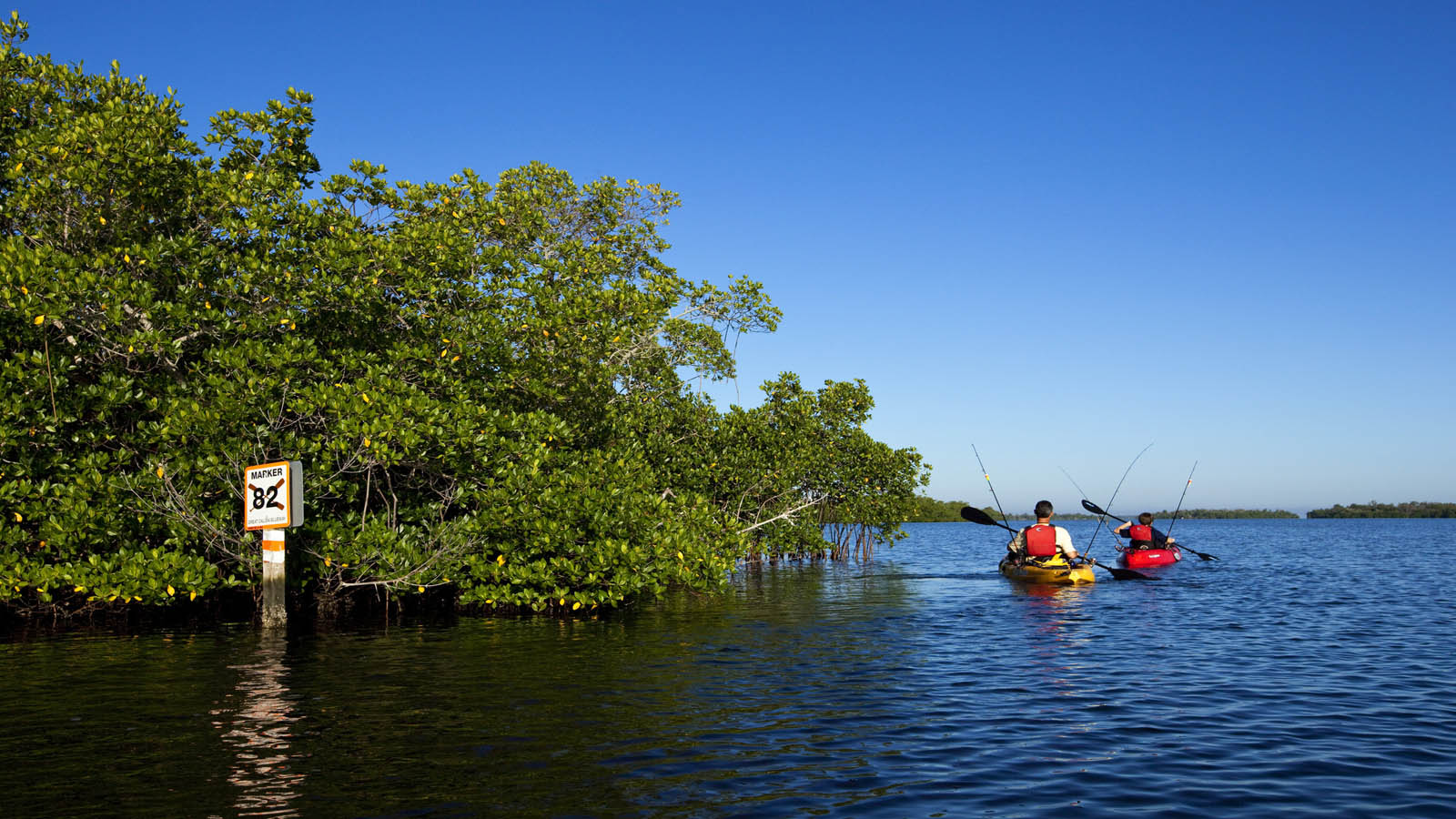 Dolphin Sunset Tours
Experience the breathtaking Southwest Florida sunsets and the area's unique wildlife, from birds, dolphins and manatees, while relaxing out on the areas beautiful waters. We guarantee you will not be disappointed.
Great Calusa Blueway
Paddle your way from one end of the county to the other along the Great Calusa Blueway, a marked and GPS-plotted waterway trail named for a native tribe that covers 190 miles. The trail is perfect for every paddling adventure from short, novice-level trips to day-long or overnight trips.
Naples Zoo
The Naples Zoo features over 70 species and boasts beuatiful exhibits and tropical gardens. Delight at seeing many of your favorite animals like lions, kangaroos, monkeys, and bears. You'll also discover feature exhibits and an array of more rarely seen creatures like the fosas of Madagascar or an Asian deer.
J.N. Ding Darling National Wildlife Refuge
The refuge is part of the largest undeveloped mangrove ecosystem in the U.S. It's world-famous for its spectacular migratory bird populations. Recreation opportunities include paddling, hiking, fishing, and biking. Free interactive Visitors Education Center. Closed Fri., hours vary, call for times.
Shell Factory & Nature Park
Very large collection of shells, coral, specimen shells and sea products in a 60,000-ft. space. Additions to the Nature Park include new habitats and a 7,000-sq.-ft. aviary.
Four Mile Cove Ecological Preserve
Leave city noise behind for Cape Coral's little corner of wilderness – Four Mile Cove Ecological Preserve, where a boardwalk and nature trail take you into undisturbed habitat.

Cape Coral Yacht Club Community Park
A local secret, the Cape Coral Yacht Club Community Park has all of the ingredients for a day of family fun: picnic shelters, a beach, a swimming pool, shuffleboard, outdoor racquetball courts and a fishing pier.
Calusa Nature Center & Planetarium
A 105-acre natural oasis, including boardwalks through pine flatwoods and cypress wetlands. Live animal exhibits and Audubon aviary. See the stars at the planetarium.
Audubon Corkscrew Swamp Sanctuary
A 13,000-acre ancient forest with a 2.25-mile boardwalk through mammoth cypress trees, alligator holes and lakes where colorful wading birds feast.

CREW Land and Water Trust
Explore the natural wonder of the real Florida through CREW's boardwalks, observation tower and well-maintained hiking trails. See wildflowers, wildlife and 5000-acre saw grass marsh.

ECHO Global Farm Tours
Tropical fruit trees, edible plants and crops educate visitors on sustainable farming and hunger issues. A true "living-classroom," it is the only facility of its type!